WORKATION NEAR GOA
Looking for Workation Near Goa? We have a better deal.
Explore beaches, rivers & western ghats just a few hours away from Goa.
---
Imagine working amidst the swaying areca trees, with stunning beaches just a short drive away. Welcome to Areca County, your idyllic workation destination located just a few hours away from the vibrant beaches of Goa. Embrace the perfect blend of work and leisure as you escape to the serene haven of Areca County, where productivity flourishes and relaxation is at its finest.
Areca County is located near Honnavar, few hours from Goa. Our location is central to explore much more beyond Goa, including Gokarna, Murudeshwar, Jog Falls etc. Areca County is more than just accommodation; it's a carefully crafted experience that caters to the needs of digital nomads, remote workers, and business professionals looking to blend work with leisure.

You can simply book any cottage with our standard rates for a short stay. If you are looking for a longer workcation near Goa with a week or a month, we will make breakfast, evening snacks, dinner & unlimited tea/coffee complimentary. Use coupon code "WORKATION" when you book any cottage online.
City-like infra for Workation near Goa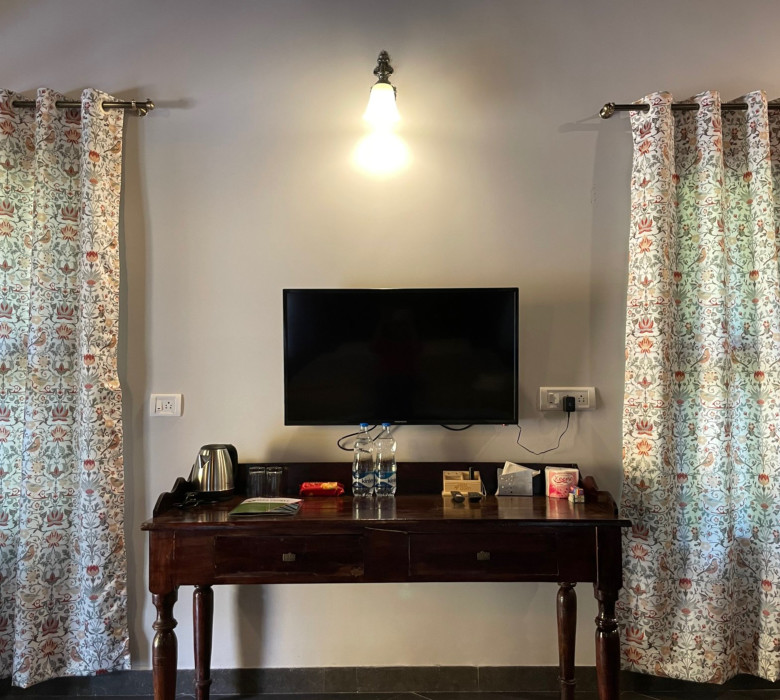 It is unbelievable but true that we have taken care of minute details of remote work infrastructure so that you can work peacefully.
18KVA power-line (generally homes have 1-2KVA).
100Mbps optical fiber based internet connection (shared).
Mobile coverage from leading providers including Jio and Airtel.
TP-Link switches.
Dedicated TP-Link WiFi access point in every cottage.
One LAN port in every cottage.
Enough power points (including international sockets) inside cottages for all your chargers.
Lot of power points and WiFi coverage in the common areas.
TP-Link outdoor access point with range upto 200meters.
40″ Smart TV with chrome-cast support.
Workation near Goa that offers everything you need!
Work inside Cottage
A work table inside every cottage.
Work outside Cottage
Private sit-out amidst nature.
FREE WiFi
With dedicated access point.
Power Backup
We have your back.
40″ Smart TV
That can double up as a large screen display for your laptop.
Digital Payments
We accept credit/debit cards and UPI
Vegetarian Kitchen
Simple homely food.
Pure Water
Free refills of RO purified water.
Bottled water is also available.
Beverages & Snacks
Unlimited coffee, tea, lemon juice and snacks 🙂
Service
Friendly people at your service so that you can focus on work.
Local Guide
We will help you plan local sight seeing without compromising your work hours.
Printer
We can assist you if you need to print a ticket or anything else.
The rise of Workation near Goa
In recent years, the workation trend has taken the professional world by storm, offering a refreshing alternative to the traditional office setup. Workation allows individuals to break free from the monotony of their work routine and relocate temporarily to a serene destination, all while fulfilling their work commitments. Goa's vibrant beaches have long been a favorite vacation spot, but as the crowds grow, finding a peaceful and distraction-free environment becomes a challenge. This is where Areca County shines as the perfect workation solution, providing proximity to Goa's charm without compromising on tranquility.
Workation near Goa – The Enchanting Coastal Escape
Goa needs no introduction – it's a coastal paradise that has charmed travelers from all corners of the globe. With its sun-kissed beaches, swaying palm trees, and a vibrant nightlife, Goa has something for everyone. However, the popularity of Goa as a tourist destination means that it can get crowded and noisy, making it less than ideal for those seeking a peaceful and productive workation. Areca County, just a short distance away, offers an escape from the bustling beaches, inviting you to experience the serene side of Workation nearGoa.
Unveiling Your Gokarna Workation Stay
At Areca County, we understand that a comfortable and conducive environment is crucial for optimal productivity. Our thoughtfully designed accommodations offer spacious cottages with modern amenities, high-speed internet connectivity, and dedicated workspaces. Whether you're an individual seeking solitude or a team of professionals on a work retreat, our range of stay options ensures a perfect fit for every need.
Unveiling Your Workation Stay near Goa
At Areca County, we understand the significance of a conducive work environment for enhanced productivity. Our thoughtfully designed accommodations provide spacious cottages and suites equipped with modern amenities. High-speed internet connectivity ensures you can seamlessly fulfill your work responsibilities while enjoying the tranquility of the surroundings. Each cottage boasts a dedicated work table, offering a comfortable and inspiring setting to stay focused and creative.
Areca County's serene and distraction-free environment sets the stage for heightened focus and productivity. The peaceful surroundings, away from the hustle and bustle of city life, create an ambiance that allows you to channel all your energy into your work, free from the usual workplace distractions.
Goa Workation Friendly Facilities
o cater to the diverse needs of workation guests, Areca County offers a range of workation-friendly facilities. For virtual meetings and group collaborations, we have fully equipped cottages with state-of-the-art technology. Our quiet zones provide a peaceful sanctuary for deep focus and uninterrupted work sessions. Our team is always on standby to offer technical support, ensuring a seamless work experience throughout your stay.
Gastronomic Delights with Workation near Goa
At Areca County, we believe that delightful dining experiences are an essential part of any workation. Our in-house restaurant offers a delectable fusion of local cuisine, prepared by our talented cook. We take dietary preferences and restrictions seriously, ensuring that you are well-nourished and ready to take on your work challenges with a satisfied palate.
Goa Workation with Leisure and Exploration
During your leisure hours, take the opportunity to explore the captivating beauty of nearby beaches and culture. From the pristine shores to the vibrant markets, Honnavar offers a wealth of experiences to immerse yourself in. Return to Areca County, where you can unwind and recharge, ready to take on new work challenges with renewed enthusiasm.
Book your Workation Near Gokarna
Secure your stay in advance to ensure availability during your preferred dates.
Prepare your work essentials, including your laptop, chargers, and any specialized equipment required for your tasks. Areca County's well-equipped workspaces will complement your work setup seamlessly.
Pack comfortable clothing, swimwear, and sunscreen for your leisure excursions near Goa. Don't forget to carry your work attire and any necessary documents to maintain professionalism during virtual meetings.
Experience the best of both worlds – work and vacation – at Areca County, your haven for a workation near Goa. Unwind in the serene ambiance and immerse yourself in the captivating beauty of Goa's beaches while maintaining productivity and focus on your work responsibilities. With top-notch facilities, a vibrant community, and an environment that nurtures creativity, Areca County promises an unforgettable workation experience. Book your stay now and embark on a transformative journey where productivity meets relaxation in perfect harmony.
Book your Workation