WORKATION IN HONNAVAR
Your central basecamp to explore Honnavar, Gokarna, Murudeshwar & more
---
Areca County was built during the COVID-times, in a remote first world. Every cottage at Areca County is remote-work friendly. You can simply book any cottage with our standard rates for a short stay.
If you are looking for a longer workcation in Honnavar with a week or a month, we will make breakfast, evening snacks, dinner & unlimited tea/coffee complimentary. Use coupon code "WORKATION" when you book any cottage online.
City-like infra for Workation in Honnavar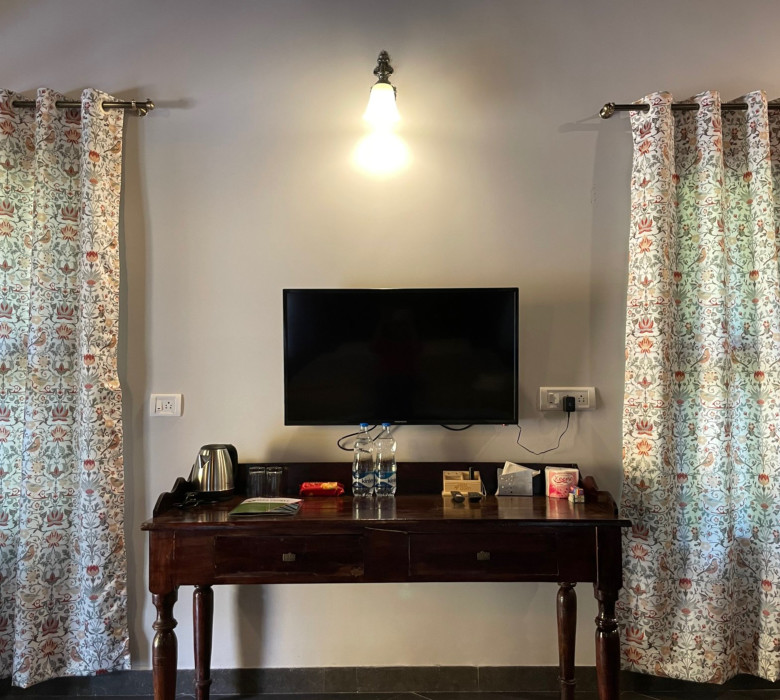 It is unbelievable but true that we have taken care of minute details of remote work infrastructure so that you can work peacefully.
18KVA power-line (generally homes have 1-2KVA).
100Mbps optical fiber based internet connection (shared).
Mobile coverage from leading providers including Jio and Airtel.

Optional: Paid upgrade to mobile internet dongle for backup.

TP-Link switches.
Dedicated TP-Link WiFi access point in every cottage.

Optional: Paid upgrade to dedicated 100Mbps connection.

One LAN port in every cottage.
Enough power points inside cottages for all your chargers.
Lot of power points and WiFi coverage in the common areas.
TP-Link outdoor access point with range upto 200meters.
40″ Smart TV with chrome-cast support.
Workation in Honnavar that offers everything you need!
Work inside Cottage
A work table inside every cottage.
Work outside Cottage
Private sit-out amidst nature.
FREE WiFi
With dedicated access point.
Power Backup
We have your back.
40″ Smart TV
That can double up as a large screen display for your laptop.
Digital Payments
We accept credit/debit cards and UPI
Vegetarian Kitchen
Simple homely food.
Pure Water
Free refills of RO purified water.
Bottled water is also available.
Beverages & Snacks
Unlimited coffee, tea, lemon juice and snacks 🙂
Service
Friendly people at your service so that you can focus on work.
Local Guide
We will help you plan local sight seeing without compromising your work hours.
Printer
We can assist you if you need to print a ticket or anything else.
Workation in Honnavar: A Perfect Blend of Work and Leisure in the Lap of Nature
In recent years, the concept of workation has gained immense popularity among professionals seeking a harmonious balance between work and leisure. A workation allows individuals to escape the monotony of their regular office setup and relocate to tranquil destinations, where they can continue their work responsibilities while experiencing the joys of a vacation. One such enchanting workation destination is Honnavar, a hidden gem located in the Uttara Kannada district of Karnataka, India. Honnavar offers a unique blend of scenic beauty, cultural richness, and modern amenities, making it an ideal location for a rejuvenating workation experience.
Nestled along the Arabian Sea coastline, Honnavar is a picturesque town known for its unspoiled beaches, dense forests, and lush greenery. The town exudes an aura of tranquility, away from the hustle and bustle of city life, making it a refreshing escape for workation enthusiasts seeking solace and inspiration. Honnavar is easily accessible by road and rail, with the nearest airport being Dabolim Airport in Goa, approximately 180 kilometers away.
One concern for workation enthusiasts is the availability of reliable internet connectivity. Thankfully, Honnavar has witnessed significant infrastructural development, ensuring that seamless internet access is available in most places, including accommodations, cafes, and co-working spaces.
One of the highlights of a workation in Honnavar is the delectable coastal cuisine. The town is a haven for seafood lovers, with a vast array of fresh catch transformed into mouth-watering delicacies. Indulge in the authentic flavors of coastal Karnataka.
Book your Workation in Honnavar
For any queries please WhatsApp +91-8762006200
A workation in Honnavar promises an idyllic blend of work and leisure in the lap of nature. With its pristine beaches, lush green landscapes, and workation-friendly facilities, Honnavar offers an ideal setting for professionals seeking a peaceful yet productive work environment. Embrace the town's cultural richness, savor the coastal cuisine, and explore the natural wonders to create lasting memories during your workation in Honnavar. So pack your bags, power up your laptop, and embark on a transformative journey to this enchanting coastal town for a fulfilling workation experience like no other.