HOMESTAY NEAR KUMTA
Looking for a homestay near Kumta? Areca County is just 25 minutes or 20kms away.
Honnavar has a lot more to offer than Kumta. Eco Beach is known to be one of the 8 cleanest beaches in India. There is Sharavathi Mangrove Board Walk, Backwater Boating, Farm Walk Trekking & More.
Book your Homestay Online
---
Welcome to Areca County, your perfect homestay near Kumta, just a short 25-minute drive away. Immerse yourself in the breathtaking beauty of the region while enjoying the warmth and comfort of a homestay experience. Discover the charm of Areca County, nestled in the lap of nature, and embark on an unforgettable journey of relaxation and rejuvenation.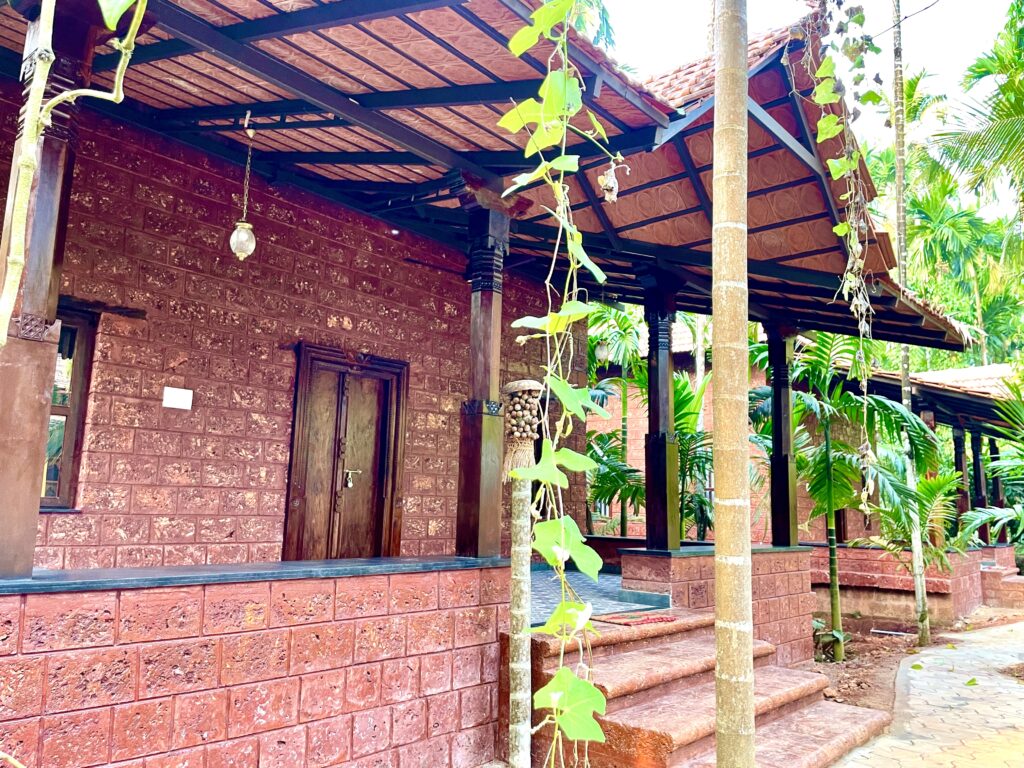 Homestay near Kumta – A Coastal Gem
Kumta, located in the Uttara Kannada district of Karnataka, is a quaint coastal town known for its pristine beaches, lush green landscapes, and rich cultural heritage. The town is blessed with natural beauty and offers a serene ambiance, making it an ideal destination for those seeking a peaceful retreat. Areca County's homestay near Kumta provides a perfect opportunity to explore the wonders of Kumta and its surrounding attractions.
Kumta is famous for its long stretches of golden sandy beaches, such as Kudle Beach, Nirvana Beach, and Gokarna Beach, where visitors can indulge in leisurely strolls, sunbathing, and mesmerizing sunsets. The town's rich history is evident in its ancient temples, such as the Mahabaleshwar Temple and the Kumbeshwar Temple, where travelers can experience the spiritual essence of the region.
Experience the Essence of a Homestay near Kumta
At Areca County, we believe in providing an authentic and personalized homestay experience. Our warm hospitality and comfortable accommodations ensure that you feel at home throughout your stay. Let our friendly hosts take care of your every need as you unwind amidst nature's bounty.
The homestay concept at Areca County is designed to offer a warm and welcoming environment where guests can experience the true essence of traditional Indian hospitality. Our hosts are committed to making your stay comfortable and memorable, catering to your individual preferences and needs.
Cozy and Comfortable Homestay near Kumta
Areca County offers a range of cozy accommodations, thoughtfully designed to blend harmoniously with the natural surroundings. From comfortable rooms to rustic cottages, each space provides modern amenities and a tranquil ambiance for a rejuvenating stay.
Our accommodations are designed to offer guests a serene retreat amidst the beauty of nature. Each room and cottage is tastefully decorated with a blend of contemporary elements and traditional touches, creating a perfect balance of comfort and authenticity.
Deluxe Cottage: Cozy and comfortable, this cottage is ideal are ideal for solo travelers or couples seeking indulge at premium place without compromising on quality.
Family Cottage: If you're traveling with a larger group or family, our spacious family suites provide ample room for everyone to relax and unwind.
Embrace Nature's Abundance at Homestay Near Kumta
Surrounded by lush greenery and serene landscapes, Areca County immerses you in the beauty of nature. Wake up to the gentle chirping of birds and let the soothing sounds of nature refresh your mind and soul.
The homestay's location amidst the natural beauty of Kumta offers a serene ambiance that allows guests to unwind and recharge. Whether you choose to take a leisurely walk through the farms or simply relax in the open-air spaces, you will find solace in the tranquility of the surroundings.
Indulge in Authentic Local Cuisine at Homestay Near Kumta
Treat your taste buds to an array of authentic local dishes prepared with love and care. Savor the flavors of Karnataka and indulge in culinary delights that will leave you craving for more.
The dining experience at Areca County is a celebration of local flavors and traditional recipes. Our talented cooks take pride in curating a menu that highlights the diverse culinary heritage of the region, offering guests a chance to savor the true essence of Karavali Karnataka's cuisine.
Exploring Places from Homestay near Kumta
Kumta Beaches – Tranquil Escapes
Kumta boasts pristine beaches with golden sands and azure waters. Spend leisurely hours by the sea, basking in the sun or taking a rejuvenating dip in the cool waters. Kadle Beach, Nirvana Beach, and Gokarna Beach are some of the must-visit coastal gems near Kumta.
The beaches near Kumta are a haven for relaxation and exploration. Whether you're looking to enjoy a quiet moment by the shore or partake in thrilling water sports, the coastal delights of Kumta have something for every traveler.
Vibhuti Waterfalls – Nature's Retreat
Nestled amidst the Western Ghats, Vibhuti Waterfalls is a hidden gem near Kumta. The picturesque cascades, surrounded by lush forests, offer an enchanting experience for nature lovers and adventure seekers alike.
A trip to Vibhuti Waterfalls is a journey through nature's wonders. The trek to the falls takes you through verdant landscapes, offering glimpses of the region's diverse flora and fauna. The sight of water cascading down the rocks is a mesmerizing sight that makes the trek worthwhile.
Yana Caves – Mystical Wonder
Venture to the mystical Yana Caves, renowned for its unique rock formations and spiritual significance. Trek through the lush forests to reach these ancient caves and immerse yourself in their intriguing history.
The Yana Caves are famous for the massive limestone rock formations that stand majestically amidst the dense forest. The Bhairaveshwara Shikhara and the Mohini Shikhara are two prominent rock formations that draw visitors with their imposing presence and cultural significance.
Mirjan Fort – A Historical Legacy
Delve into the rich history of the region with a visit to the Mirjan Fort. This historic structure stands as a testimony to the past and offers panoramic views of the surrounding landscape.
The Mirjan Fort is a historical treasure that reflects the glory of the past. Built with red laterite stones, the fort's architecture and strategic location make it a fascinating place to explore. The fort also provides a vantage point to admire the beauty of the Kumta region.
The Kumta Homestay Homestay Experience
Reconnect with Nature
Areca County's homestay near Kumta allows you to escape the chaos of city life and reconnect with nature. Spend time amidst the greenery, breathing in the fresh air, and finding tranquility in the serene surroundings.
The homestay's peaceful setting is conducive to relaxation and rejuvenation. Whether you choose to take a leisurely walk through the gardens, practice yoga in the open-air spaces, or simply sit by the outdoor fireplace, you will find solace in the natural beauty that surrounds you.
Bonfire Evenings
As the sun sets, gather around the bonfire with fellow guests and share stories under the starry sky. The cozy bonfire evenings create memories to cherish forever.
The bonfire evenings at Areca County are a delightful way to unwind and connect with others. Guests can share their travel experiences, cultural insights, and personal anecdotes while enjoying the warmth of the fire and the camaraderie of their fellow travelers.
Stargazing Delight
Our homestay near Kumta has clear skies which present an excellent opportunity for stargazing. Lie back and marvel at the twinkling constellations, a truly mesmerizing experience.
Stargazing at Areca County is a magical experience, especially on clear nights when the stars shine bright. The absence of city lights allows guests to witness the beauty of the night sky in all its splendor, making it a must-do activity during your stay.
Homely Hospitality
At Areca County, our friendly hosts ensure that you are well taken care of during your stay. Experience genuine warmth and hospitality that will make you feel like a part of our extended family.
Our hosts are passionate about providing exceptional service to our guests. Whether it's assisting with travel arrangements, recommending nearby attractions, or simply engaging in friendly conversations, the hospitality at Areca County is characterized by genuine care and attention to detail.
Reserve your Homestay near Kumta
Our website has all the details of various accommodations available at Areca County. Choose the one that suits your preferences and reserve your spot in advance.
Planning your homestay near Kumta is simple and convenient. Our website provides detailed information about each accommodation option, along with images and amenities, allowing you to make an informed decision before making a reservation.
Pack comfortable clothing, swimwear, and sturdy shoes for nature walks. Don't forget your camera to capture the beautiful moments of your homestay near Kumta.
When preparing for your homestay near Kumta, consider the activities you plan to engage in and pack accordingly. Comfortable clothing, especially for outdoor exploration, is essential, as are any personal items you may need during your stay.
Easily accessible by road, Areca County is well connected to major cities and towns in Karnataka. Detailed directions and transportation options will be provided to ensure a smooth and convenient journey.
Reaching Areca County is hassle-free, with various transportation options available. Whether you're driving or using public transport, our team will provide you with clear directions to reach the homestay without any difficulty.
Book Homestay Online
Areca County's homestay near Kumta offers a blissful escape into nature's serenity. Immerse yourself in the beauty of Kumta and its surrounding attractions while enjoying the warmth and comfort of our homestay. Embrace the authentic hospitality, explore the coastal wonders, and find peace in the tranquil ambiance. Plan your retreat to Areca County, where the charm of Kumta converges with the serenity of a homestay, creating an unforgettable and rejuvenating experience.