When you are travelling it is important to stay healthy and take good care of your stomach. We have a pure vegetarian kitchen serving simple South Indian food with local cuisine. Food is freshly prepared without any MSG or artificial colours.
You can eat as much as you like with our unlimited buffets.
We are happy to make any special food arrangements for elderly or kids, with pre-intimation.
Please note that we do not sell alcohol.
We also have ice-creams and beverages. Filter coffee is available. Fresh juices are subject to availability and some may be seasonal.
Free purified water is provided and you can also refill your water bottles.
Packaged Bisleri water is available at MRP.
Since the food service is priced separately, you have more flexibility. For example some of guests go out early morning for Gokarna temple or some for boating and some for photo shoots etc. Since Honavar has a lot of sight seeing places, you could also eat-out instead of coming back to our property just for food (or you could if you wish).
If you are staying for multiple days, we generally prepare different items so that the same dishes don't get repeated. If you want something to be repeated(like rasam or daal) let us know the cook in advance.
If you have special requirements(like no garlic, no onion etc), let us know the same in advance.
Breakfast, lunch or dinner is free for infants below 5 year, provided two adults are having food.
Children from 6-12 will be billed half the price for breakfast, lunch or dinner.
Children above 12 will be considered as adults.
WHATSAPP US ON 8762006200
TO PRE-BOOK YOUR FOOD & SPECIAL DISHES
---
We mostly serve in-house guests and prepare food even if there is one guest. The commercials of operating at such small scale is not good. Further preparing special dishes is a time consuming process and we call external cooks. They need to be booked in advance and will cost extra.
Even the raw materials like leaves for the some of the special dishes needs to be planned and procured.

Our breakfast, lunch & dinner are all unlimited buffets.
Special dishes can only be prepared for breakfast or dinner and not for lunch.
We have displayed this information upfront to give you a choice and treat the foodie in you.
However, we will not be able to prepare special dishes if you ask later at the property.

The price of Rs.3000 includes one breakfast & one dinner for two people
If you have additional people in the group they will be charged as per pricing displayed in the menu.
If you are staying for multiple days, you can ask us to prepare special food on one of those days.
Pure Vegetarian Restaurant at Honnavar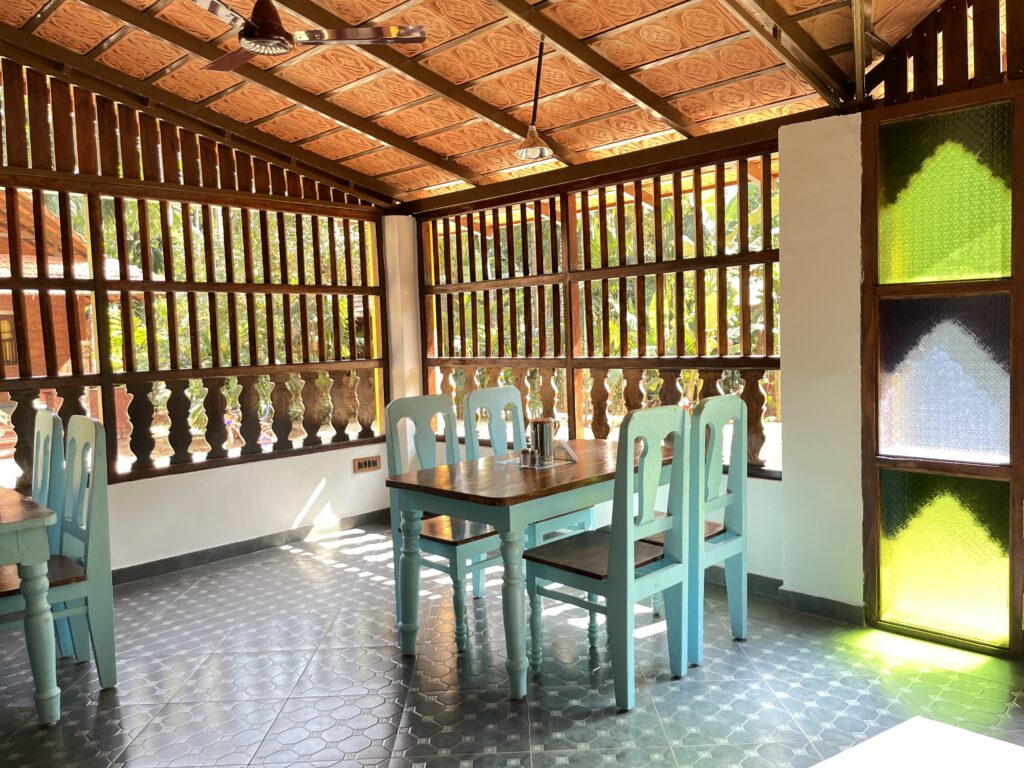 Indulge in the purest form of vegetarian cuisine at our Pure Vegetarian Restaurant in Honnavar. Our restaurant offers a mouth-watering assortment of dishes that leave your taste buds craving for more. Book your table now and relish the authentic taste of vegetarian cuisine like never before.
Address: Hiremakki, Hosakuli, Honnavar, 581334, India
Geo Coordinates: 14.3120602, 72.3641001
Phone Number: 8762006200
Price Range: ₹₹₹
Opening Hours
Days: Monday, Tuesday, Wednesday, Thursday, Friday, Sunday, Saturday
Opening Time: 07:00
Closing Time: 21:00
Serves Cuisine: Multi Cuisine
Menu URL: https://arecacounty.com/dine/